How to Sew Leather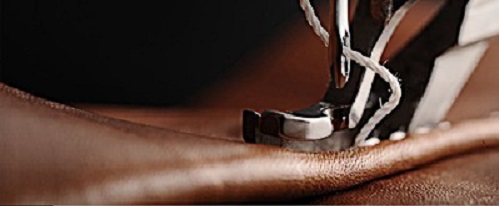 Sewing with leather should not be scary! In most cases, basic sewing skills, a home sewing machine & a good leather needle is all you need. Of course, a little how to advice from the pros also helps! Below you find treasure trove of leather sewing tutorials covering all types of projects from the best DIY leather folks we know. We hope you like it & happy sewing!
Delia Creates: Leather Upholstery Slipcover
The Chronicles of Home: DIY Bedroom Bench with Leather Upholstery
Reality Daydream: Upholstered Ottoman (Diamond Tufting)
The Learner Observer: DIY Tufted Leather Headboard
Prodigal Pieces: Pottery Barn Knock-Off Caden Bench
One Little Minute: Leather Butterfly Chair Cover DIY
Row House Nest: DIY Leather Pillow
Little House of Four: DIY Tufted Leather Bench with Custom Hairpin Legs
Bigger Than the Three of Us: Modern DIY Leather Chair Cushion
Running With Scissors: Rolling Stool With Leather Upholstery
Sisters What!: Ottoman Makeover
The Interior Frugalista: How to Recycle a Headboard with an Embossed Leather Seat
The Chronicals of Home: DIY Moroccan Leather Pouf
Redo It Yourself Inspirations: How to DIY Leather Dog Sofa
Cechaflo: Upholstery Basics: How to Deal with Square Corners - Video!
Sewing DIY Leather Clothing & Shoes
De-Smitten: DIY Leather Wrap Skirt
One Little Minute: Leather Jacket
Merricks Art: Leather Dress Tutorial
The Girl Inspired : DIY Leather Jacket
Oakland Avenue Blog : DIY BABY MOCCASINS
Two Sheep: Leather Baby Shoes
Running with Scissors: Leather Suspenders for Women
Meesha TV: How to make a Fall Leather Skirt - Video!
Tutorial Girl Here: Leather Shoe Making - Video!
Sewing DIY Small Leather Crafts
Fynes Designs: DIY Leather Camera Strap
Crafty Nest: Leather Coffee Sleeves
Caila Made: Leather Tool Roll
Makezine: Minimalist Leather Wallet and Key Holder
Create/Enjoy: DIY Leather Camera Strap Tutorial
Sew Fearless: Reversible Leather & Cotton Belting Bag Handles
Harry Rogers: Making a Leather Tool Case - Video!
Sea Lemon: Long Stitch Binding Tutorial - Video!